Product Description
Super quality top sell FRP 20m3 storage tank, frp water storage tank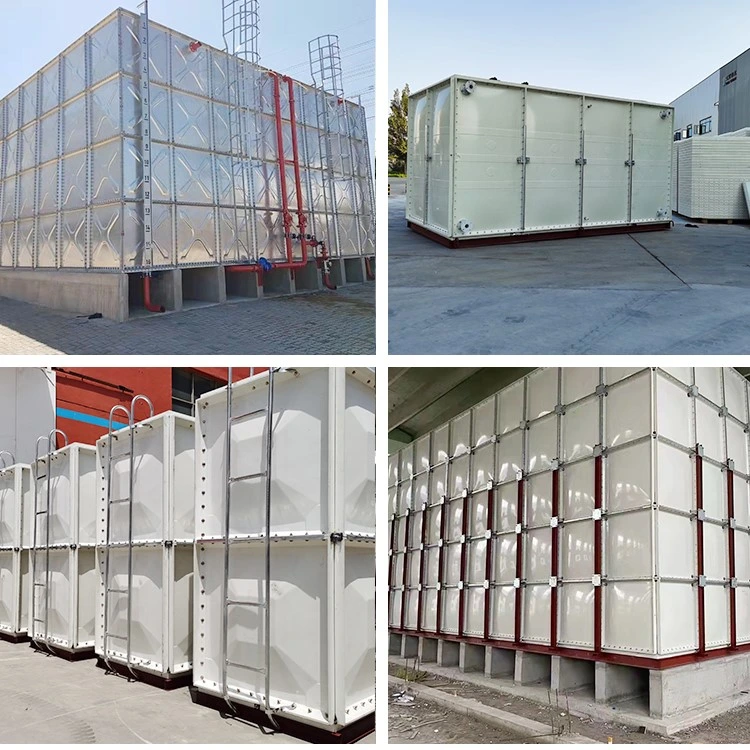 FRP/GRP/SMC panel's main raw materials are resin and glass fiber roving.Using the hot press machine to manufacture different thickness of panels;its thickness is depends on the weight of raw material. FRP/GRP tank is the most popular in Asia,MENA,America countries etc.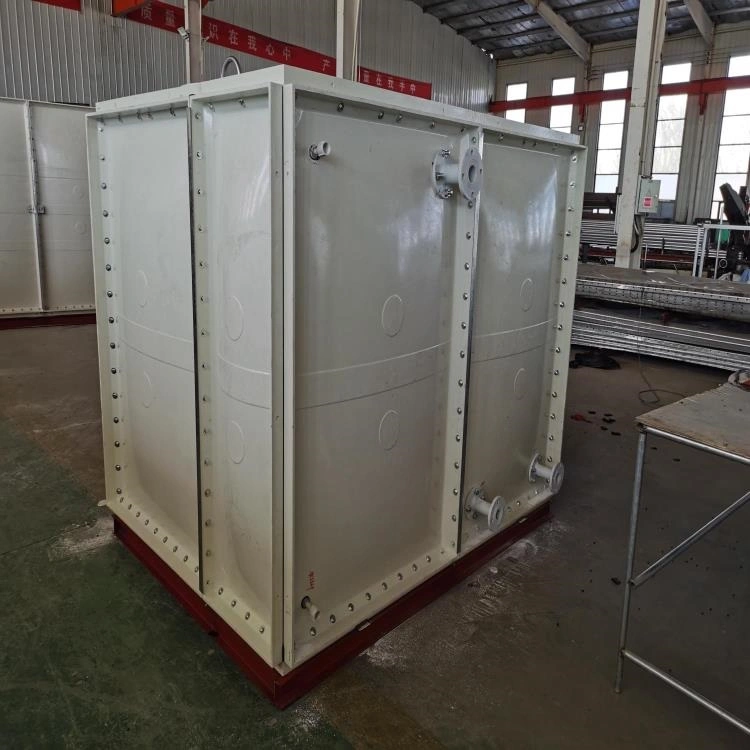 TECHNICAL DATA
PANELS
MATERAL
1.Food grade unsaturated polyester resin
2.Alkali free twist glass fiber roving
3.Thickener(MgO),intiator(curing agent),cross linking agent, ect

SIZE&WEIGHT
1.The size of FRP/GRP panel are produced by standard mould, having size 1*1m.1*0.5M,0.5m*0.5m;
2.The panel thickness is depends on the tank height
3.The available highest height is 5 meters(Add extermal C channel or l-beam reinforcement is needed for 4m and 5m height).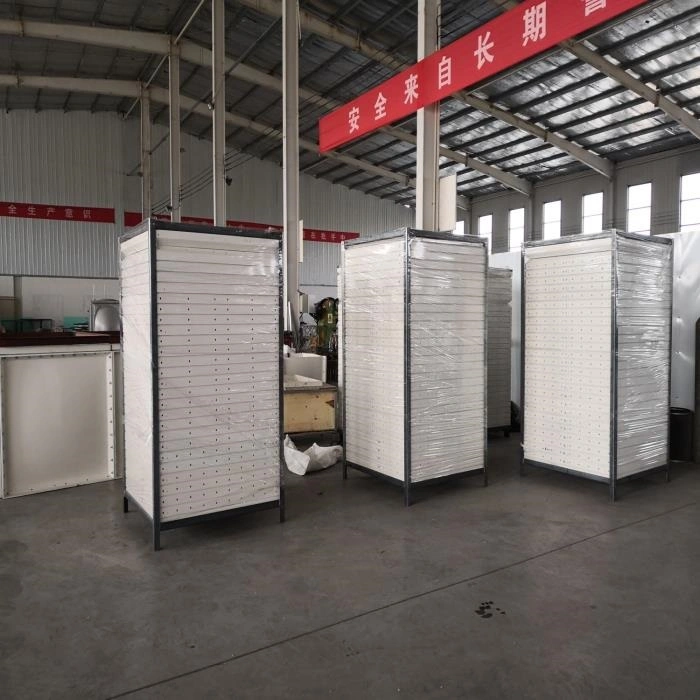 FRP Water Tank Specification

Material

Size

Panel Shape

Thickness

Remarks

Volume

Color

GRP

FRP

500mm-

2000mm

Square or rectangle with a convex in centre

4mm-

25mm

thickness tolerance:+-0.2 mm

0.125 -

5000 cubic meter

ivory white

Sealing Material

1, Black or Milk White(food grade), size depends on actual situation.

2, Plugging

3, Glass cement

Metal Structure

1,Channel steel base; 2,angle iron; 3,Bolt&nut; 4,flange; 5,support and tie piece; 6,ladder; 7,lacing board, etc.

No leaks after being filled with water. Deformation after being filled with water: Wall maximum deformation was no more than 1.0% of the tank's bottom center height. Maximum deformation was no more than 10 mm.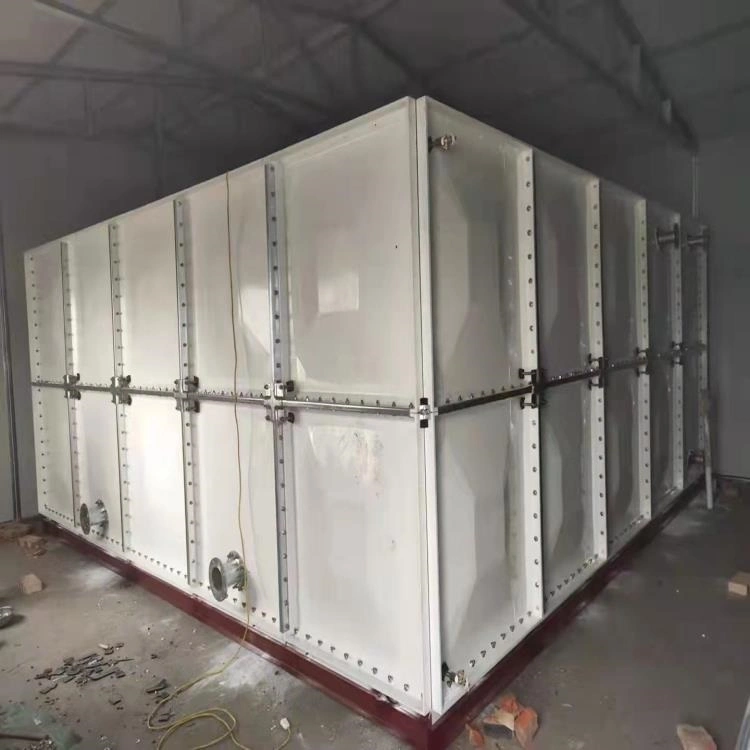 Tank height(m)

Thickness of each panel

bottom

1st layer

2nd layer

3rd layer

4th layper

5th layer

Roof

1.0

0.5*(1-6)

0.5*(1-6)

0.5*(1-4)

1*(1-7)

1*(1-6)

1*(1-4)

1.5

0.5*(1-7)

0.5*(1-6)

0.5*(1-6)

0.5*(1-4)

1*(1-7)

1*(1-7)

1*(1-4)

2.0

0.5*(1-8)

0.5*(1-7)

0.5*(1-6)

0.5*(1-4)

1*(1-8)

0.5*(1-7)

1*(1-6)

1*(1-4)

2.5

0.5*(1-9)

0.5*(1-9)

0.5*(1-7)

0.5*(1-5)

0.5*(1-4)

1*(1-9)

1*(1-9)

1*(1-8)

1*(1-4)

3.0

0.5*(1-10)

0.5*(1-10)

0.5*(1-7)

0.5*(1-6)

0.5*(1-4)

1*(1-11)

1*(1-11)

1*(1-8)

1*(1-6)

1*(1-4)

3.5

0.5*(1-11)

0.5*(1-11)

0.5*(1-9)

0.5*(1-7)

0.5*(1-5)

0.5*(1-4)

1*(1-12)

1*(1-12)

1*(1-12)

1*(1-8)

1*(1-4)

4.0

0.5*(1-12)

0.5*(1-12)

0.5*(1-9)

0.5*(1-8)

0.5*(1-6)

0.5*(1-4)

1*(1-13)

1*(1-13)

1*(1-12)

1*(1-9)

1*(1-7)

1*(1-4)

5

0.5*(1-15)

0.5*(1-15)

0.5*(1-10)

0.5*(1-8)

0.5*(1-7)

0.5*(1-5)

0.5*(1-4)

1*(1-17)

1*(1-17)

1*(1-12)

1*(1-12)

1*(1-10)

1*(1-8)

1*(1-4)