Hygienic Non-Retention 3PCS Ball Valve

Application:
The series ball valves are used to transfer controlling the material ,which extensively use to food,beverage processing and pharmacy,chemical industry areas.
Standard design
:Have different standard of valve series can supply for customers,they are the DIN standard series,3A standard series,SMS standard series,ISO/IDF standard series,BS/RJT standard series,ASME/BPE etc.
The constitete elements of ball valve always included :one handle,one ball body with transfixion cavity,valve body,valve central spindle and spindle shaft seal.
The specification of Nuomeng bal valve series are welded ball valve,clamped ball valve,threaded ball valve etc.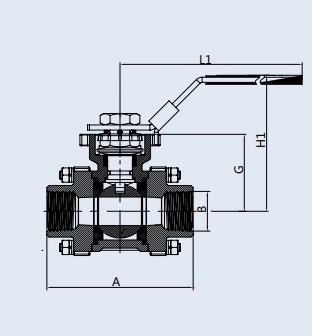 The parts of valve usually include
: Valve body which divided into two parts, the ball with through cavity, valve stem and control sets(handle/actuator)etc.
Manual three-piece ball valve include 3pcs welded ball valve,3pcs clamp ball valve,3pcs femaled ball valve
Connection
: Clamp, Our company also offers weld, weld/clamp, etc.
Product features:
1.Valve stem anti-flying design
2.The connection between valve body and bonnet with positioning stage design
3.Circulation
4.No retention design
NO.RQ1204
Size
A
B×C
G
H1
L1
H2
DIN
DIN11850-2
ISO/SMS
3A/BPE
DN10
1/2"
93
34×9
34×10
25×9.7
25×9.4
40.3
71
130
129.3
DN15
3/4"
103.5
34×15
34×16
25×16.05
25×15.75
42.3
71
130
131.3
DN20
/
103.5
34×19
34×20
/
/
42.3
73
130
131.3
DN25
1"
110
50.5×25
50.5×26
50.5×22.4
50.5×22.1
53.4
91.6
165
142.4
DN32
1 1/4"
120
50.5×31
50.5×32
50.5×28.8
/
58.4
96.6
165
163.4
DN40
1 1/2"
129
50.5×37
50.5×38
50.5×35.1
50.5×34.8
70.8
×104
190
175.8
DN50
2"
146
64×49
64×50
64×47.8
64×47.5
77.8
110
190
200
DN65
2 1/2"
185
91×66
77.5×59.5
77.5×60.2
107
158
252
242
DN80
3"
200
106×81
91×72.2
91×72.9
117
158
276
264
DN100
4"
240
119×100
119×97.6
119×97.4
135
175
276
310
Parts List: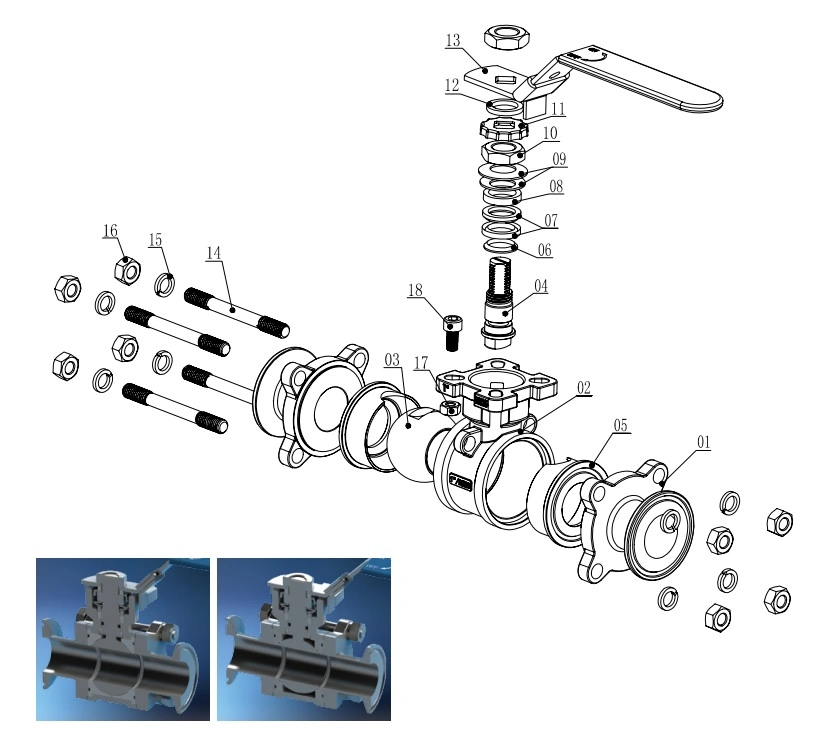 | | | | |
| --- | --- | --- | --- |
| NO. | Description | NO. | Description |
| 01 | Valve Cap | 10 | Nut |
| 02 | Valve Body | 11 | Stopper Ring |
| 03 | Ball Core | 12 | Gasket |
| 04 | Valve Stem | 13 | Pull Handle |
| 05 | Body Seal | 14 | Bolt |
| 06 | Washer Gasket | 15 | Spring Washer |
| 07 | V-seal Components | 16 | Nut |
| 08 | Gasket | 17 | Nut |
| 09 | Spring Gasket | 18 | Bolt |
Client customization item (DN100 flange connection):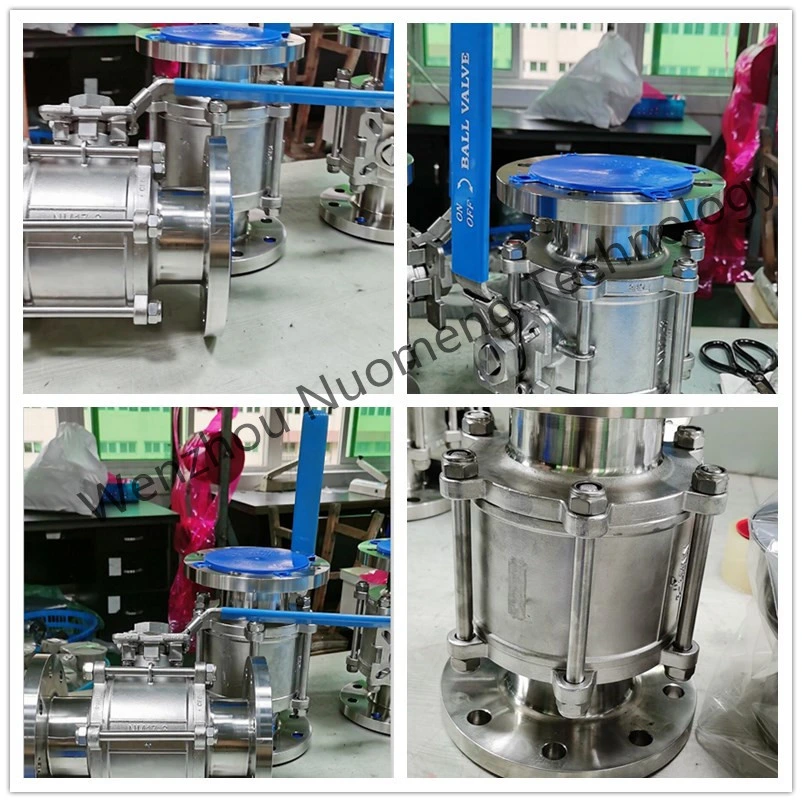 Our Workshop: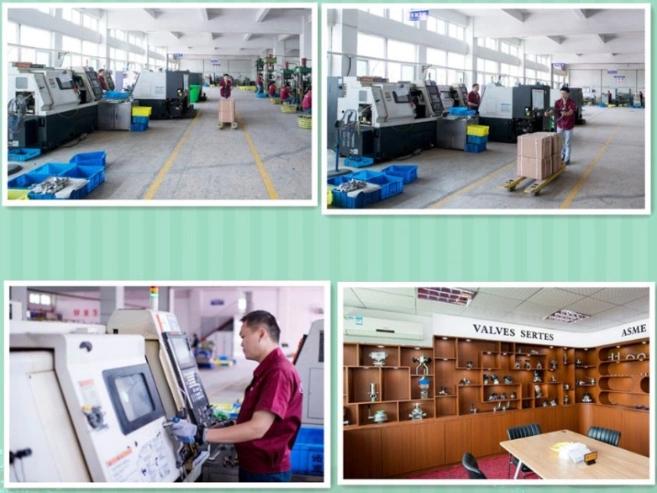 Latest Exhibition: