Rectangle Pipe Jacking Machine for Composite Pipe Line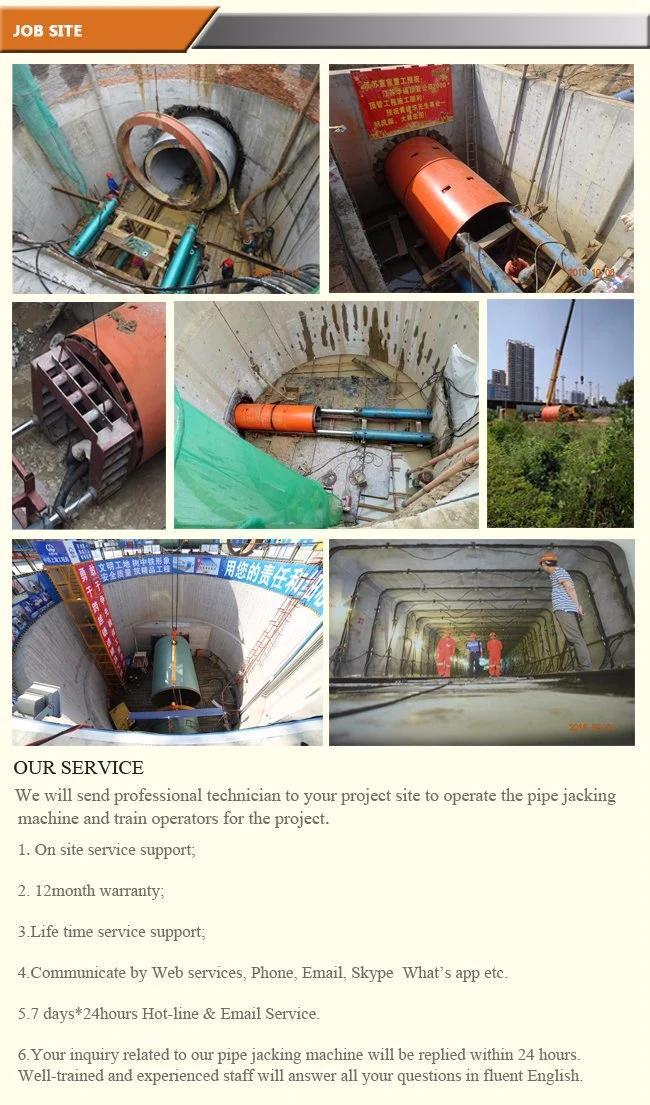 Basic Info.
Model NO.:JD3000-4000
Type:Shield Excavator
Usage:Special Excavator
Transmission:Mechanical Transmission
Drive Type:Electric Drive
Size:Large-Scale
Certification:ISO9001: 2000, SGS
Condition:New
Trademark:Xuanxuan
Origin:Changzhou, China
Product Description
JD Rectangular Pipe Jacking Machine( Multi blade earth pressure balanced pipe jacking machine )can be used
in soft soil, hard soil,It is the full soil pipe jacking machine. The depth requirements cover the soil is not high,Minimum 1.5 times of the pipe diameter. By reasonable way of grouting,Can improve the soil, to maintain and control surface stability and ground subsidence.
With minimal deformation
The Soil transport and handling is convenient and simple.
Safety and convenient operation, suitable for large diameter, long distance pipe jacking
Nowadays many of our cities existing facilities can not meet the requirement of development, it needs to provide better sewage system, water, gas, electricity and communication facilities. The especially important matter is that worker install the pipeline safely and to reduce the destroy of city area. Therefore the pipe jacking machine and skill are very important. Our company could supply safety and economical pipe jacking method for you.
Application scope:
Widely used in trenchless underground projects such as metro tunnels, pedestrian crossing under streets, crossing passageway under railway etc.
Models and main technical data:




Specification(Inside diameter)mm




3000X5000




3000X5500




3300X5500




3300X6000




4000X6000




Cab be customized according to customer requirements .




Quick speed ,Safe and convenient operation ,long service life.





Main Features:




Applicable to a wide range of soil:




Not only applicable to all kinds of soil, but also suitable for the coarse sand and strong rock sand.Widely used in trenchless underground projects such as metro tunnels, pedestrian crossing under streets, crossing passageway under railway, sewage & water treatment system, gas and oil pipeline etc.




By using low speed high torque transmission ways, the cutting force of the cutter is high.The Overload coefficient can reach more than 3.




There are independent, perfect soil water injection, grouting system.It can improve the excavation soil.Thereby extending the scope of application. There is small construction subsidence .The minimum requirement for covering the soil is only 1.5 times of the pipe diameter.




By using the center bearing type cutter,with compact structure, light weight, long life and easy maintenance.




Using screw conveyor to transfer the soil , the Unearthed height is high , and with bigger diameter.The deviation adjustment angle is 2.2.




The Elevation and deflection of the head using advanced control system.Can be digital display, easy to operate, action sensitive, visual and reliable.




Full face cutting with opening rate can reach 100%, earth pressure is more realistic.





Packaging & Shipping




Nude Packing




Delivery Detail:




60 days after 30% deposit receiving





Our Services




1.After sales services:overseas commissioning engineer available for testing and installation.




2.Working services:overseas commissioning working team for whole pipe jacking construction.




3.On site service support;




4 12month warranty;




5 Life time service support,




6 Communicate by Web services, Phone, Email, Skype etc.




7. 7 days*24hours Hot-line & Email Service.




8.Your inquiry related to our pipe jacking machine will be replied within 24 hours.Well-trained and experienced staff will answer all your questions in fluent English.





Warranty




If quality & assembling problem caused troubles, we take responsible on spare parts and all service fees.




If misuse or human factors caused the trouble, users shall take responsible on spare parts and all service fees.





Company Information




Jiangsu Xuanxuan Heavy Machinery Co.Ltd is affiliated with Weiqiang Group.It's located in Changzhou city,Jiangsu Province,is located in the center of the Yangtze River Delta,the north part close to Yangtze River, the south part close to Lake Taihu, and East part is close to the East China Sea.Is the birthplace of modern Chinese industrial, modern equipment manufacturing city. It Has a superior geographical advantage and convenient land and sea and airtransportation conditions.




WeiQiang group was founded in 1989,More than 30 years of history, now,It Consists of several companies,such as Weiqiang Chemical, Weiqiang machinery, XuanXuan heavy Machinery , it was assessed as "private technology enterprises in Changzhou City","High-tech enterprises in Jiangsu Province " Private science and technology enterprises in jiangsu province ".




Jiangsu Xuan Xuan Heavy Machinery Co., Ltd. professional design and manufacture trenchless engineering equipment,integrate Product development, manufacturing, marketing and after-sales service .Products include multi-series pipe jacking machine, shield machine, pipe jacking equipment and spare parts spare parts.




Products include multi-series pipe jacking machine, shield machine, spare parts of pipe jacking machine, shield machine,Hydraulic oil cylinder, hydraulic system, lubricating system, pneumatic system, PLC control system and non-standard equipment.The company attaches great importance to the development of new technology and new products.In recent years, In recent years, vigorously invested in the non-excavation pipe jacking equipment, hydraulic systems, and had done a lot of fruitful work.It has successfully developed a slurry balance, earth pressure balance and series of multi-type excavation products,It has been successful application in domestic market,




The company attaches great importance to product quality management, and establish a standardized and systematic quality management platform, strict requirements, excellence, our goal is to provide customers with high-quality engineering equipment. Company will provide high-quality pre-sale, sale, after-sales service,Companies to provide high-quality pre-sale, sale, after-sales service, At any time, provide product consulting, use guidance, etc.




Adhering to the service purposes of "active", professional specialization, efficiency first " we aim to provide quality products and excellent service

to our customers. To achieve the expectations of customers and exceed goals of Industry standard.




Xuan Xuan heavy industry based on long-term development strategy, follow the "conservation, security, service," the 3S product concept, and vigorously promote scientific and technological innovation, continuing to provide customers with quality products and services.





FAQ




In order for you to get a better price and technical solutions. Please provide the following required parameters:




1. Project total length, distance for one section, how many sections will be built?




2 Pipe type: concrete or steel etc, single length of the pipe? outer and inner diameter ? /Production pipe drawings: Concrete or steel etc, length, ID & OD




3 Projects information: for water supply, sewage project?




4 Underground water level;




5 Soil type/Soil property report:? soil report is needed.water level and so on




6.Drawings of launching pit and reception pit (Width, Length and Depth)




7 Project data: total shaft length, max length of single shaft, quantities of shafts